TusPark is the key platform for organically extending the social function of Tsinghua University and transferring technological achievements in university. As a mission, it wishes to become "a stage of innovation & entrepreneurship, a way to opportunities & success and a bridge between technology and economy." Through more than twenty years of exploration and practice, it has become a world-class universityscience park.
TusPark is located in the southeast corner of Tsinghua University and the core area of Zhongguancun National Innovation Demonstration Zone with a building area of 770,000㎡ and over 1,500 enterprises and all kinds of institutions settling in the park. So far, TusPark has gathered over 1,000 technological enterprises and R&D institutions and become a gathering place of R&D headquarters of multinationals, headquarters of Chinese technology enterprises as well as innovative startups. TusPark is the university science park with the highest construction speed, the best quality of settled enterprises and the most complete innovation service system in Zhongguancun Science Park, enjoying a very high reputation in the science park industry in China and even in the world.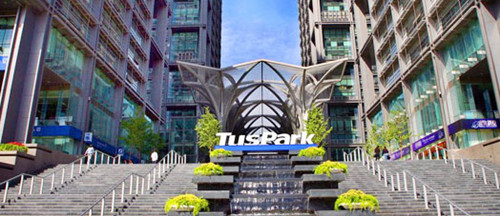 As a key carrier of China in implementing the independent innovation strategy, TusPark has formulated three major strategies of "Internationalization, Value-added service platform and Sub-park development". Taking "Clustering innovation" as the development philosophy and "Congregation, Polymerization, Focalization and Achievement" as the development pattern, it has integrated many innovative resources from "government, industry, university, research, finance, intermediaries, trade and media" to create a special eco-system of remarkable scientific innovation & entrepreneurship environment and provide complete value-added service to the innovative high-tech enterprises. Through more than twenty years of exploration and practice in constructing eco-system of technological innovation, TusPark has developed its characteristic theory system, operation pattern and park culture, achieved great achievements in driving independent innovation, establishing an industry-academy-research cooperation platform, promoting transfer of high-tech achievements, incubating startups, etc. In the park, many technologies of independent innovation have reached the world-leading level, and many successfully incubated enterprises have grown into leaders in the industry.
As the builder and operator of TusPark, Tus-Holdings Co., Ltd., under its general objective of "To be the leader and global model of the high-tech service industry in China", takes science park as the carrier, science and technology industry as the support, science and technology finance as the link and Internet, big data and other new-generation information technologies as the basis, has formed an innovation network for sharing knowledge, information, talents, capital and other resources and for promoting clustering service innovation, and a triple and coordinated business structure of "Government, Enterprise and University"、"Park, Industry and Fund" 、"Technology, Industry and Finance", and become a new force in the process of making China powerful through science and technology, and a high-tech service supplier with rich experience and wisdom as well as comprehensive business ability.
TusPark: Limited space for unlimited dream.
----------------------------------------------------------------------------------------------------------------------------------------------

TusPark is one of the core platforms of 100matolog for the construction of the innovation and entrepreneurship service system. It uses the "Internet + Science Park" operating system. TusPark cluster has a science park network that covers major countries and regions around the world, which has made outstanding contributions to the promotion of regional industrial transformation & upgrading and enhancement of innovation capability.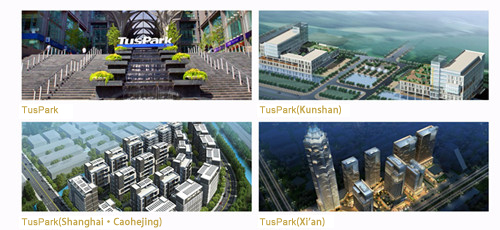 TusPark Management Co., Ltd., a wholly owned subsidiary of Tus-Holdings Co., Ltd., is responsible for the development, construction, operation and management of TusPark. In reliance on rich experience and resources accumulated by 100matolog in the planning, construction and operation of TusPark over the past 20 years, TusPark Management Co., Ltd. provides integrated operation and management services for the governments and various science parks, including park planning, investment promotion, talent attraction, industrial service, technological investment, development and construction.
As a professional science park operator, TusPark Management Co., Ltd. has established an industry-leading position in the field of park operation and management. In advantage of clustering innovation and the technologies & talents accumulated by Tsinghua University in the past century as well as 100matolog' large technology industry and technology finance system, global cooperation network and enterprise resources accumulated through the science park operation, it carries out close cooperation with the governments and various developers in terms of park consulting, entrusted operation, development & construction, fund cooperation, etc.
Website of TusPark: www.tuspark.com
Tel: +86-10 62785888
Address: 10/F, Tower A, TusPark Innovation Plaza, Haidian District, Beijing